Erika Lemay: the Undisputed Queen of Extreme Aerial Silks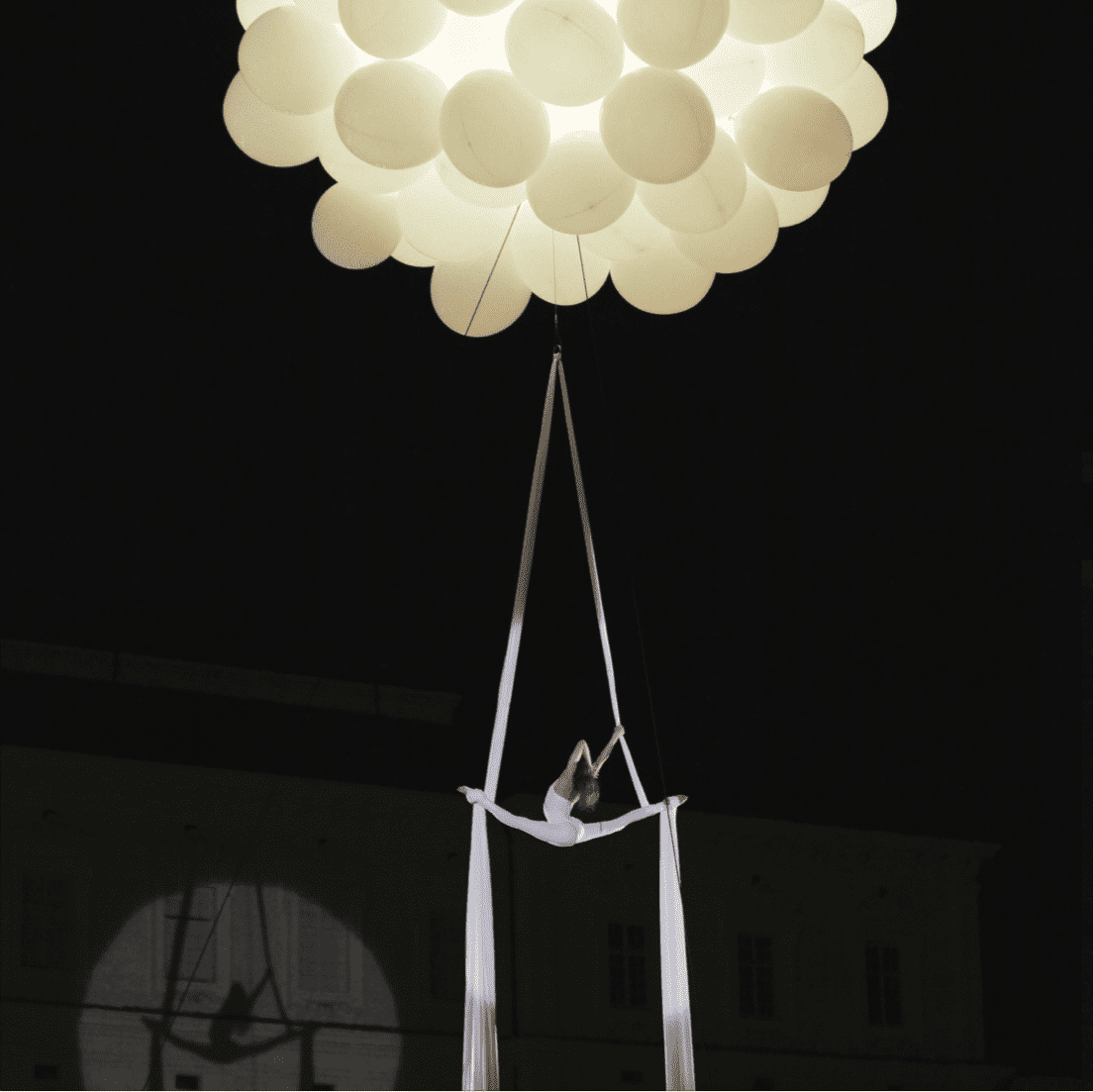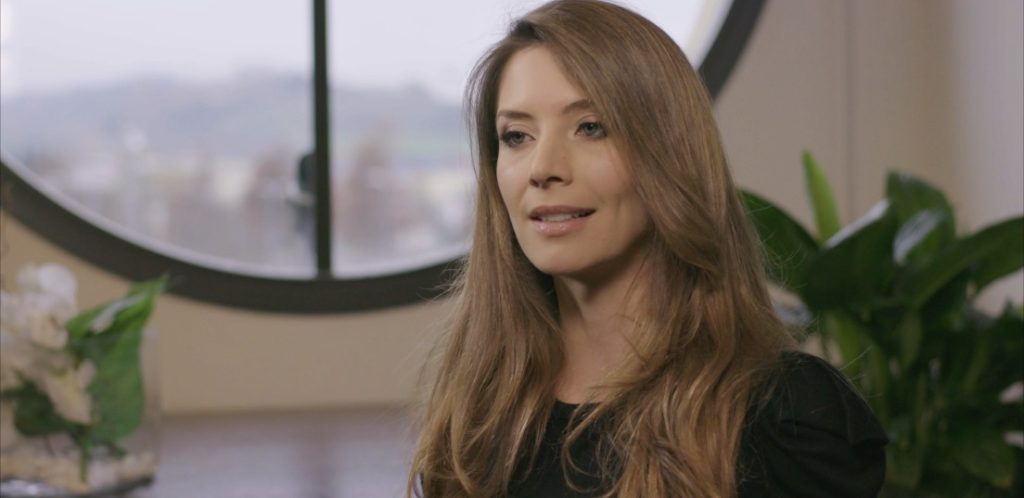 "If we compare the river and the rock, the river always wins no thanks to its strength but to perseverance." Buddha
We were able to personally see the audience's amazement and emotion on several occasions during Erika's multiple performances, with their eyes staring at the sky and expressions of disbelief as if they were children again, with a dream yet to be seen come true. Thousands of people all over the world have been able to experience just how much her passion and art can be instantly perceived by the audience that attends her shows. The tenacity, dedication and passion that Erika transmits, arouse an emotion so deep that it almost seems like a spiritual experience. All this with a skill and elegance to make everything, only on the surface, "simple".
Erika Lemay , self-taught in everything from her aerial art silks, her dancing and acrobatic skills to her constant thirst for knowledge, as well as to her inner and spiritual quest. Her journey took her from her first ballet class (in Canada) at the age of four to worldwide success and recognition. And worldwide she is recognized as an icon of live performances, using her body in ways that defy both gravity and human possibility.
Her lifestyle is in fact comparable, without a shadow of a doubt , to that of an Olympic athlete for constant commitment, passion and dedication. As an example of this is the fact that she trains on her own every day and by the help of a video camera, she can see the errors and improve more and more.
Erika started dancing when she was four. She was a gymnast until the age of 11, when she became the youngest member of Cirque Eos. At the age of 14 she performed for the first time in Europe in " La Piste auxEspoirs ", the International Circus Festival in Belgium, winning the gold medal and the Public's Choice Award. This strengthened her international career, leading her to tour Canada, the United States, Europe, Central and South America in international circuses.
Physical Poetry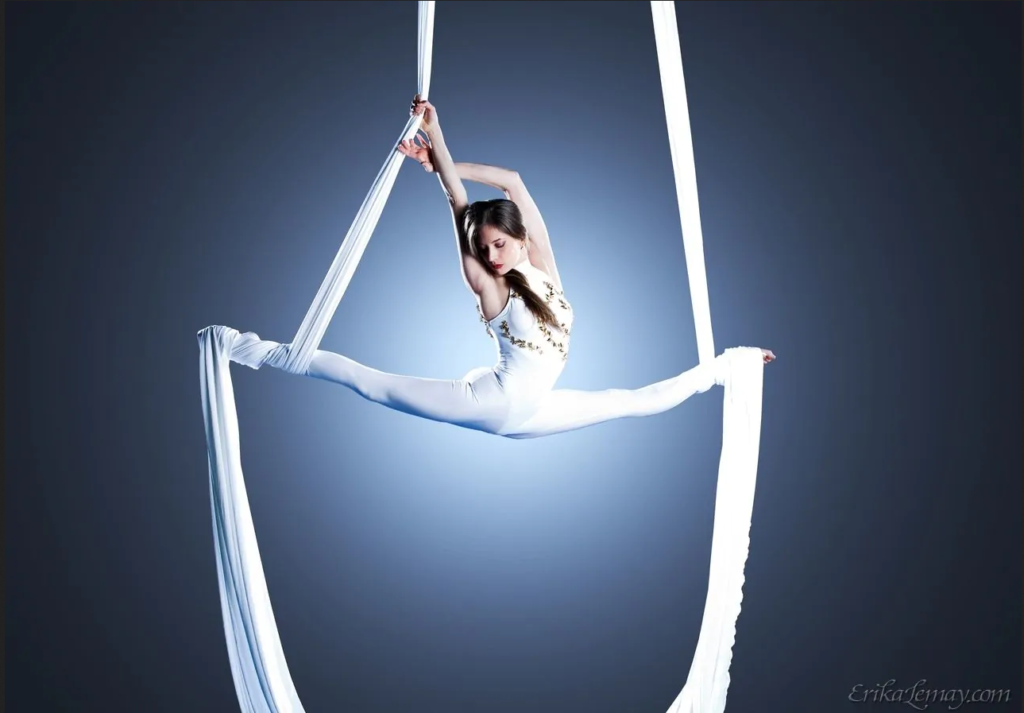 With her background in theatrical performance, ballet, aerial acrobatics, contortions, along with a unique sophistication and a strong charisma on stage (or "in the air"), Erika Lemay soon became known for being an incredible Physical Poetress . With this experience behind her and her innate grace that distinguishes her, she composes an incomparable performance called Physical Poetry, which is played by Erika in theaters, festivals, exclusive shows and one-of-a-kind events.
Physical Poetry , a new art form that Erika created at 19 when she became a soloist, out of a deep passion for her artistic discipline. A physical language that speaks to the soul, which allows it to spread a message of hope and wonder that can be shared with her audience. An art to which she dedicates her entire life, with stretching and training starting from the early hours of the morning. Physical Poetry is, it can be said, the messenger who aims to share emotions through a body language that is not at all common and at the same time unlimited. The contortions, aerial acrobatics and elegance used in these performances become a means of expression that becomes an almost dreamlike and deeply emotional experience for the viewer.
Her ability to move any audience, her artistic ability and her extraordinary acrobatics make her one of the most admired, sought after and requested artists in the world today.
From her constant challenge with gravity and the search for a true connection with her audience, Erika Lemay launched ANIMUS FEMINA ; a complete show in all its nuances performed by a single woman. The first of its kind starring in solo playing Physical Poetry , this unusual format for such a physical artist is an ethereal story that evolves through the arts of aerial acrobatics, contortion, theatrical interpretation, contemporary dance and new visual technologies adapted to exclusive events and more.
International Artist, Philanthropist and Writer. Her latest book: Almost Perfect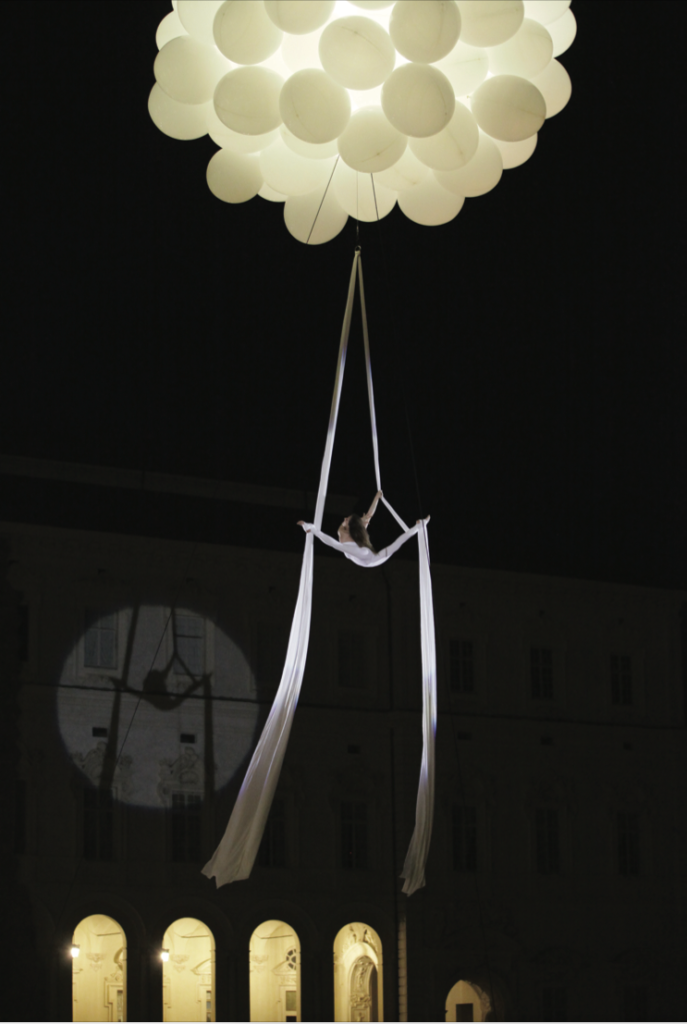 Almost Perfect is ideal for anyone aspiring to exceptional health, an amazing life, a head spinning physique and an enviable career. Erika's carefully crafted methodology to excel at specific goals, is laid bare for the world to see. Nothing comes for free: An elite, detail-oriented mindset is the key to the most incredible , life-changing path . In Almost Perfect, readers learn to be the embodiment of consistency through iron discipline and unshakable self-esteem.
Erika points out how much too often attention is paid to the skills that a person might have at the beginning (as a child, for example) and instead how much it would be more appropriate to focus on the path that a person takes to reach "the Elite ". The obstacles that must be overcome in order to reach one's goal are much more relevant than mere talent. An example that Erika makes of this is how in the case in which a person has to leave his career because they has suffered an injury and how this should be taken as an opportunity to improve and not considered as wasted time. Taking these moments to go through the storm and come out on top will give you just that little bit more that will then set you apart from the crowd. The tenacity and the deep desire to make it, really makes the difference. And it is precisely these characteristics that really make talent: resilience, fearlessness and willpower.
And it is with this in mind that she created her art " Phisical Poetry " thus becoming famous all over the world. From "not having talent" and possibly being discouraged and giving up everything to being recognized and admired everywhere.
"Erika is passion, grit and determination embodied . Those who think these qualities are innate will be surprised when they read this inspiring book . "
– Guy Laliberte | Founder of Cirque du Soleil and of Groupe Lune Rouge, recognized by Time Magazine as one of the 100 most influential people in the world.
" Almost Perfect is a unique story that we can all learn from . It is a collection of tips applicable to your professional and personal life " . – Daniel Lamarre , CEO and President Cirque Du Soleil
"Almost Perfect takes us behind the scenes , where everyone falls and gets up. Erika Lemay is such an ethereal creature with a strong personality. He made his dream come true with passion, talent and determination. A great lesson for all of us in these difficult times. " – Cristina Lucchini , Co-Editor VANITY FAIR ITALIA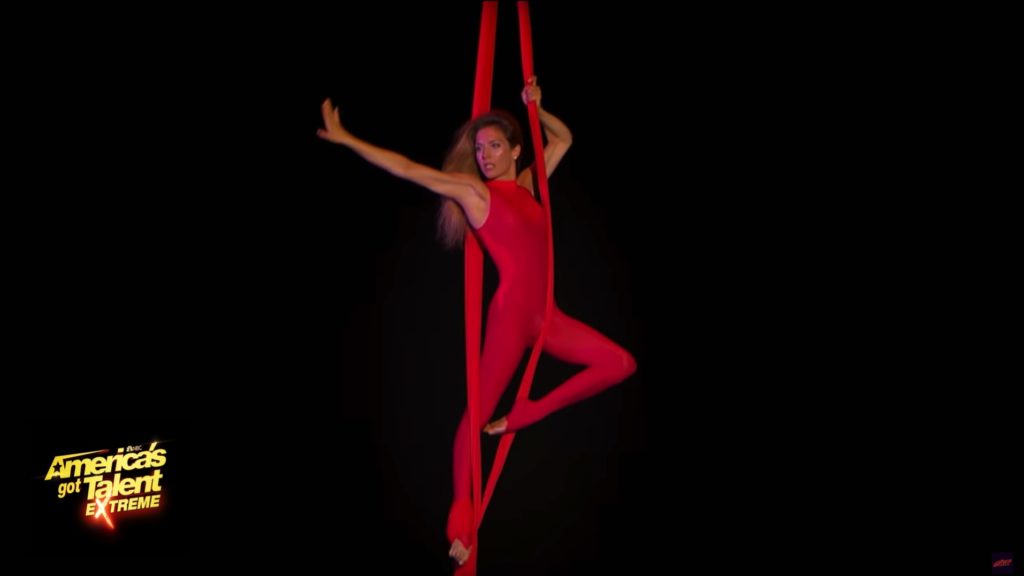 Unanimous Golden Buzzer Erika Lemay America's Got Talent extreme
Last but not least , her extreme performance that left everyone breathless at America's Got Talent. Where she received the unanimous Golden Buzzer shocking all judges: Simon Cowell (executive producer and judge of America's Got Talent , America's Got Talent: The Champions and the latest addition to the franchise , AGT: Extreme. Cowell is a record company executive , a television and film producer and a global entertainment icon), Nikki Bella (The retired WWE superstar is a television personality, entrepreneur, producer, New York Times bestselling author , motivational speaker, and longest-serving champion of the Divas ) , and Travis Pastrana (one of the most established athletes in action sports history. He has won championships in both two-wheel and four-wheel competition with a career that includes freestyle motocross, supercross , motocross, rally racing, NASCAR and off-road) alongside the presenter Terry Crews (actor, TV presenter and former American football linebacker ).
Host Terry Crews wrote a post on Twitter : " It was one of the most beautiful things I've ever seen in my entire life ! We all agreed on Erika that she should receive the Golden Buzzer of the whole AGT Extreme group! Simply PHENOMENAL! " And we can only agree with him completely.
Whenever we have made videos of her performances or created and organized events with Erika there is no wonder it remains number one in the world. This incredible contrast but also balance between strength and grace make her performance unique and fascinating. The great effort and constant hard work that Erika carries out make her , by far, the undisputed queen of aerial poetry… an all rounded artist.
Thirty Seconds Milano: the Leading Video Agency
We want to share with you the video event that has remained most in our hearts, shooted in the spectacular location of the Reggia di Venaria . The video production curated by Thirty Seconds Milano directed by Francesco Tolve it was produced live with various camera points using professional cameras with careful and selected aerial shots, close ups and more. We wanted to recreate as much as possible the perception of the spectator in assisiting her artistic performance of such importance as well as the respectable location of Venaria Reale that gave even more importance and majesty to the video and to the event itself.
But at this point no words are needed, we'll let the video Adagio for Silks speak for itself.
Just as we take care of the likes of her caliber, the same way we do with all of our productions. This be the organization of events as well as the production of corporate videos . From the far north, to the far south of Italy and many other European and International locations, Thirty Seconds Milano Film & Video Production Company is your Production Company for all your Video and Event needs.
Our team has been working with major brands, companies, musicians, artists for over 20 years and has built a strong relationship with each of them thanks to our constant pursuit of excellence, attention to detail, creativity and competence that distinguish us.
Our passion for Cinema has always accompanied us and we believe that cinematographic techniques should not be confined only to the great Hollywood films, but can and should be brought to all levels of video and film shooting scenes, so as to give your product, brand and the like, a chance to really shine. Furthermore, we believe this methodology is the only right way to achieve high standards.
We follow the production at 360 degrees , we take care of everything necessary, from permits in every Italian region (such as from the Lombardia Film Commission , which aims to give approval for photographic and film shooting in outdoor locations), in search of the perfect location by supporting every need, from the use of the most modern broadcast equipment, to the design and creation of custom music, and much more. Whether we are talking about videos or events our team provided all rounded service tailored to Your needs.
You can take advantage of a production from A to Z, complete in all its parts or, if you want a Made in Italy creativity alone , our Creative Directors can offer you a tailor-made idea for your Brand or Company. We take care of every detail so that the final result is epic.